Be A Part of the New 'Engaged Design' Project
Published Wednesday, Jun 12, 2013
The SEEDS garden is changing! When the building renovation is complete we'll be re-shaping the garden to benefit from the new indoor space, and more importantly, to fit the needs and interests of you, our neighbors and community. We are gathering information from as many neighbors and caring community members as we can using 'engaged design.'
Abbey Piner holds a Masters of Horticulture and a focus in Permaculture and Community Engaged Design from NC State and is a member of our Durham community. She is working with SEEDS to create and lead activities to gather your creative thoughts and ideas about how the re-designed garden can best connect with neighbors, program participants, and SEEDS supporters.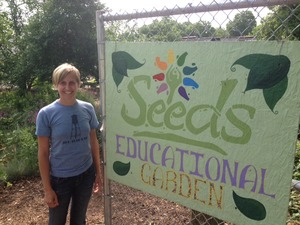 We will be inviting many of you to give feedback.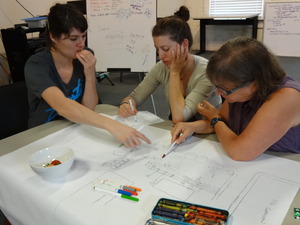 There are activities in the garden during the month of June where you can give input on your own time, and we welcome your creative input. By using 'engaged design', we are sharing our value of the collective voice. We're excited to have you be a part of it!
Please contact Abbey Piner at apiner@seedsnc.org or Hilary Nichols at hnichols@seedsnc.org with any questions or input.